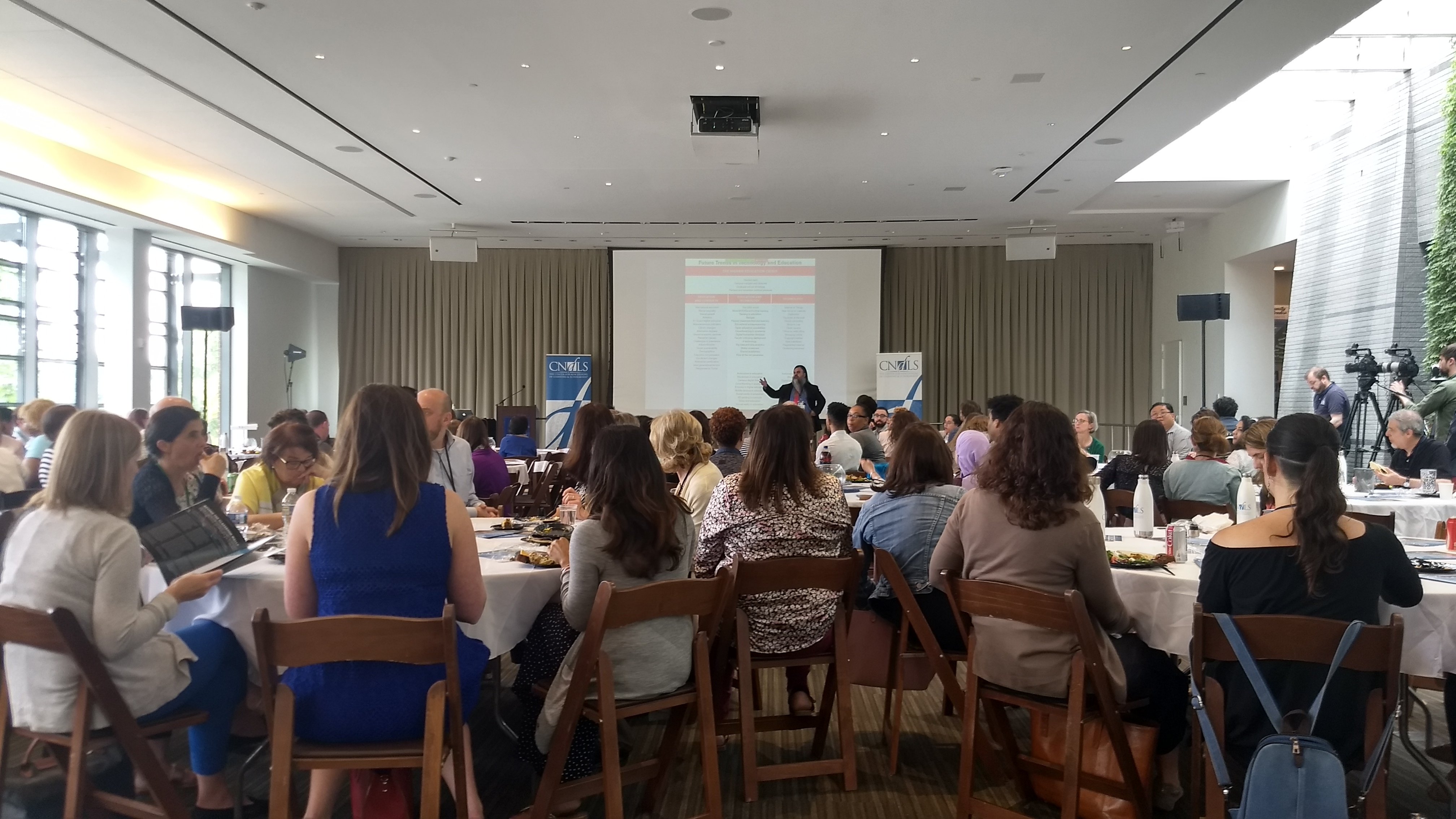 The other week, I attended a four-day conference at Georgetown University. The Teaching and Learning Innovation Summer Institute gathers faculty and staff to discuss the university's most pressing topics in pedagogy. It was especially impressive to see the turnout of participants considering it was the day after the graduation ceremony.
Attending the conference made me the proverbial fish out of the water. My role in academe has been largely on the other side of the classroom, as a student in the Philippines and later in Germany for my graduate studies, on the receiving end of learning and teaching. Getting to know the challenges of faculty and staff, and the innovation they implement in the classroom to enhance student learning was both, seemed both familiar and yet novel. I attended as many sessions as I could, and let me share some bite-sized summary of each that I attended over the four-day forum.

May 20, Monday
How Learning Works – Northeastern University professor Susan Ambrose shared her work based on her book "How Learning Works: Seven Principles:
How Does Students' Prior Knowledge Affect Their Learning?
How Does the Way Students Organize Knowledge Affect Their Learning?
What Factors Motivate Students to Learn?
How do Students Develop Mastery?
What Kinds of Practice and Feedback Enhance Learning?
Why Do Student Development and Course Climate Matter for Student Learning?
How do Students Become Self-Directed Learners?
Leveraging VR and Immersive Technology for Enriching the Classroom Experience – Faculty shared how to:
use a 360 camera to document field trips to the Potomac River when collecting samples to measure water quality
harness the power of storytelling in the form of 360 videos to amplify advocacy and facilitate call to action
simulate underwater diving through VR and identify species by placing 3D flags on the seafloor
represent electronic waves in 3-D and view them from different perspectives
Topics in Inclusive Pedagogy:  Climate and Power in the Classroom – It's quite obvious that power structures and dynamics exist between teacher and students, but it was surprising to learn that these also exist between teachers and between students.
Tech Exploration Social Hour – Show and tell for gadgets and gizmos in and out of the classroom, including online Italian courses, an online platform for annotating Arabic characters, an electronic pen for annotation and group discussion, and online archives to collate information about less-known historical events. Did you know that MLK gave a speech in divided Berlin?

May 21, Tuesday
Building Writing into Your Course: Why and How? Writing assignments should be intentional, and "low-stakes" and faculty can use easy-to-grade writing assignments to gauge learning progress. I proposed using 750-word blog posts to present popular versions of research papers to a wider (online) audience. The blog post should avoid using discipline-specific jargon and buzzwords, and may include listicles or include memes and gifs.
The Future of Georgetown's Classroom Design – Electronic devices such as projectors and computers are now a staple of the modern classroom. But simple tech such as chairs and tables on casters to create multiple classroom configurations: a seminar room, a semi-circle, or the classic teacher behind the desk can also offer quick fixes that promote interaction among students and teachers.
Teaching and Learning Behind Bars – Two former inmates gave testimonials to how attending university – and another shot at life – opened opportunities from cocaine dealer to a legit entrepreneur and from illegal activities to a paralegal career.
Apply Universal Design for Learning – an Accessible, Usable and Inclusive Class – How do you design a class that takes into account different learning styles and even disabilities? Taking inspiration from the field of architecture, universal design for learning encourages using various materials, teaching methods, and tests to accommodate students' cognitive abilities.
Curriculum Integration with the Maker Hub – What stood out was the example from an assistant professor who asked her students to form groups and create a 3D-printed mascot for their team. In doing so, the design process turned into a team-building activity. It's one of those times when process is more important than the product.

May 22, Wednesday
Making the Invisible Visible: Student Art Influencing Teaching & Learning – Close-looking at students' handwritten messages on their feelings of inclusion – or exclusion – on campus. How do the students of color navigate a predominantly white institution? How do white students interact with students of colors' clubs and organization, their so-called safe spaces?
"Sleep When You're Dead": Achievement-Orientation in Student Leadership Practice – A fascinating phenomenon of joining and leading multiple student clubs, by sophomore year, to build the ultimate resume. A university non-profit managing the university's convenience stores, a credit union, and a campus tour guide student association have acceptance rates lower than the elite university they are attending.
The New Academy: Trends for Future – Globalization and shifts in demographics, culture and politics all affect the future of the American classroom. Add to that another trend that will drive the classroom experience further to an entirely different landscape: technology. (check out this Twitter thread)
Build & Belong: Interventions for Reducing Georgetown Medical Students' Perceptions of Isolation & Stress by Improving Sense of Belonging" – What if med students, those undergo training to heal others, are the ones who need some healing? Feeling of intellectual and emotional alienation among medical students might be more common than we think. Through video recordings, M3 and M4 students to share their trials and triumphs to M1 and M2 students, that the "downs" are arbitrary. More importantly, they are not alone and have a social support system to help them rise out of a rut.
Cura Grad Student: Collaborative Conversations to Better Support Graduate Students – Many education institutions are designed for its largest population: undergraduate students. But higher education demographics is shifting as more and more graduate students are enrolled in universities. Teaching and administrative staff alike need to revisit instruction as well as university student services, respectively, that mainly see undergrads as their top priority.

May 23, Thursday
Design to the Edges; Design for All – A more in-depth look at the concept of universal design for learning, this time focusing on making learning disabilities such as dyslexia and ADHD more inclusive.
Podcasting with a Purpose – Faculty and staff in and out of the j-school update the requirement of the quintessential school paper with producing a podcast. Students still hone skills on research and reflection, and then some including interviewing, script-writing, audio editing.
Talking about Teaching A Collaborative Approach to Graduates Student Pedagogical Education – History graduate students take matters to their own hands to improve their teaching. Through informal monthly meetings, MA and PhD students share their notes on what learning and teaching techniques work – and what doesn't – as they prepare to teach students at Georgetown and beyond.
Cultivating the Virtues of Good Students – "Nudges" to learn virtues in the classroom can contribute to the formation of a "good" student. Learning and working with peers are all teachable moments to instill virtues of honesty, grit, and many others.
***
I tried to absorb as much as I can from the four-day affair, treating it as a crash course on the future of education. The cross-cutting disciplines of pedagogy and technology are rapidly changing, where education institutions are always catching up. As a newcomer, I'm more than excited to immerse myself in these fields in the next months to come. I may not be a fish out of the water after all, but more of a sponge thrown into the ocean.